Russian attack jets "buzz" US destroyer
Comments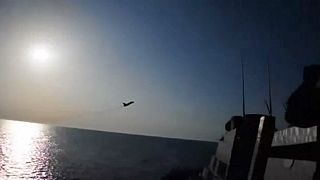 The United States military has strongly condemned the close "flybys" by two Russian warplanes.
The aircraft staged what looked like simulated attack passes near a US guided missile destroyer in the Baltic Sea.
Whoa! Watch a Russian attack plane buzz a U.S. destroyer in the Baltic Sea: https://t.co/dk747PoWwc

— Gregory Korte (@gregorykorte) April 13, 2016
The Russian Su-24 planes appeared unarmed but flew within an estimated 9 metres from the ship and twice passing below the ships navigation bridge.
An American official described them as one of the most aggressive interactions in recent memory.