Fight for New York: Clinton and Sanders gear up for debate
Comments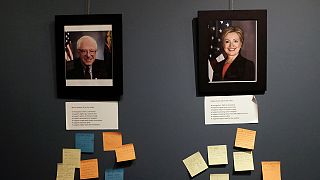 Democratic presidential rivals Hillary Clinton and Bernie Sanders have been gearing up for Thursday night's debate in New York ahead of the all-important vote on Tuesday.
Deep roots in the Big Apple
The face off on Thursday night is to take place in Brooklyn, where Sanders was born, and where Clinton has chosen as her campaign HQ. Clinton has also served two terms as Senator in New York, so this battle will be a particularly personal one for the democratic contenders.
Opinion polls show Clinton ahead by around 50% to 56% with Sanders' support ranging from 37% to 43%. However, Sanders has been boosted by seven straight wins.
New York Hustle and Bustle
A strike of workers from the Verizon telcommunications company provided the perfect backdrop for the anti-establishment candidate to boost his support. Sanders told reporters that Verizon was a "greedy, profitable corporation who wants to outsource good-paying jobs, who wants to take away health care benefits for its workers. But somehow, they do have enough money to pay their CEO 20 million dollars a year. What this union and its workers are standing up for is justice and I stand with them today."
Appearing alongside civil rights leader Rev Al Sharpton, Clinton hoped to capitalise on support from the African-American community.
"There is something wrong, my friends, when the median wealth for black families is a tiny fraction of the median wealth for white families. When African Americans are still more likely to be denied a mortgage. Something is wrong when black kids get arrested for petty crimes, but white kids who do the same things don't. "
The stakes are high in the New York primary. Sanders must win and continue winning in order to have a chance at clinching the democratic nomination. While Clinton must win to save face and secure her lead. Another defeat to Sanders could give raise doubts over her ability to win against a Republican rival in the presidential elections later this year.