EU welcomes 'crucial' approval of new Ukraine Prime Minister Hroisman
Comments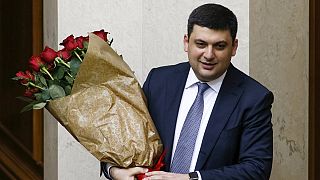 The European Union has described Ukraine's parliamentary approval of Volodymyr Hroisman as prime minister as a "crucial development at a time when new momentum in the country is badly needed".
The newly elected leader received a warm greeting in parliament from Petro Poroshenko.
It came after MPs voted in favour of Hroisman, until now the parliamentary speaker and from the same party as the president.
His nomination was approved by 257 MPs, more than 30 over and above the figure of 226, the minimum needed.
"I promise that new government will be intolerant of corruption, will be responsible for the tasks that lie ahead, and will do everything to provide stability and development," Hroisman said.
His appointment paves the way for a new government in the biggest shake-up since an uprising two years ago brought in a pro-Western leadership.
Hroisman, 38, was mayor of the city of Vinnytsia from 2006 to 2014. Later, as deputy prime minister, he was responsible for the investigation into the Malaysia Airlines MH17 plane crash in Ukraine.
Parliament also finalised the resignation of Arseniy Yatsenyuk.
His successor says Ukraine's path towards integration with Europe must be secured. Others in his party agree.
"Our task is to continue to implement all the reforms we started to bring in. Our task is not to let MPs go off course. I'm talking mainly about European integration and protecting the country's borders," said Heorhiy Lohvinskiy, an MP from the "People's Front".
Euronews correspondent Maria Korenyuk reported from Kyiv: "The Ukrainian people expect the new prime-minister and the new Cabinet to fulfill the tasks that weren't completed by the previous government: to implement reforms – in particular economic ones – and to fight corruption effectively."