Bryant blazes out with 60 points in career-capping Lakers win
Comments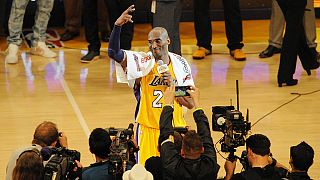 So, it was a night of legends, records and team and personal milestones for the star-spangled NBA, as after 20 years Kobe Bryant bowed out.
Bit it was with a roar, not a whimper as the 18-time All-Star guard scored 60 points to turn the Lakers around against Utah and win, 101 to 96.
Celebrities were out in force for one of their own, a man who fellow LA Laker legend Magic Johnson described as "the greatest".
The Laker comeback was inspiring and driven almost single-handed by vintage, prime cut Bryant, and his LA family was there to see it.
"You know the coolest thing is that my kids actually saw me play like I used to play. You know what I mean, it was like, wow dad, yeah, I used to do this pretty often, they were like, really? I'm like dude, you tube it, you know what I mean. It was pretty cool for them to actually see that," said a radiant Bryant after the game.
Bryant's retirement closes a page on the Golden Age of the NBA, the sports' all-but-last link with the players and teams that sent the NBA global as hip-hop took over the world. It felt like history out there.
"Here is the one thing they don't know about Kobe's 20 years. No other player has even been with the same team for 20 years, ever. He's always been here, he's always been in Los Angeles and he's always played great for us, you know, it's like any other virtuoso. It's a pleasure to get to see him certainly as much as I have," said fan Jack Nicholson, courtside.
Only five players before Bryant have played in the NBA for two decades, and he is the only one to do so for one team.