Opposition fury in FYR Macedonia as Ivanov halts phonetap inquiry
Comments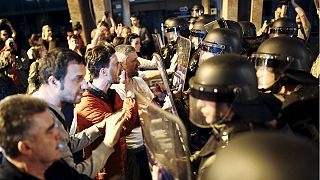 Protesters in the Former Yugoslav Republic of Macedonia surrounded the headquarters of the ruling party in Skopje, furious at the decision to drop all inquiries into allegations of widespread government spying.
The poor Balkan country – which is also in the forefront of Europe's refugee crisis – has been in turmoil since early 2015 when the opposition accused the former Prime Minister Nikola Gruevski and his intelligence chief of orchestrating an operation to phone-tap more than 20,000 people.
The decision to halt the investigation was taken on Tuesday by President Gjorge Ivanov, a political ally of the ex-PM, who said he was putting "an end to Macedonia's agony".
The affair had become so tangled up that nobody could untangle it, he said.
Several hundred protesters gathered shortly afterwards outside Ivanov's office and ruling party headquarters, and there were tense exchanges with police.
#Macedonia: Protests in #Skopje after president's amnesty to politicians under crime investigations Via georgekamov</a><a href="https://t.co/hveFx54euB">pic.twitter.com/hveFx54euB</a></p>&mdash; José Miguel Sardo (jmsardo) 12 April 2016
Opposition Social Democrat leader Zoran Zaev, who made the original allegations, said the move amounted to a "coup d'état", and demanded the president's resignation.
Last year the opposition released a large number of phone-tap records that it said exposed government control of journalists, judges, public sector recruitment and the manipulation of elections.
The European Union brokered a deal with Macedonia under which a special prosecutor was appointed to investigate the allegations. The government agreed to an early election and Gruevski stepped down as prime minister in January this year. The vote has now been put back until June and the opposition has pledged to boycott it.
The EU commissioner responsible for relations with would-be member states such as Macedonia condemned the decision as contrary to the rule of law.
Johannes Hahn added that recent actions by the country's leadership had jeopardised its prospects of closer relations with the EU and NATO.
"#Skopje: Today's actions of President #Ivanov are not in line with my understanding of #rule of law. 1/4

— Johannes Hahn (@JHahnEU) April 12, 2016
In light of these developments, I have serious doubts if credible elections are still possible 2/4

— Johannes Hahn (@JHahnEU) April 12, 2016