Bataclan in Paris announces renovation work and reopening lineup
Comments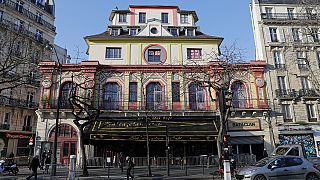 Renovation work has begun on the Paris music venue where 89 people were shot dead in last year's terrorist attacks.
The Bataclan says it plans to reopen the venue in the autumn but no exact date has yet been set.
Prochainement au le_bataclan</a> <a href="https://t.co/X59GPDbQCS">pic.twitter.com/X59GPDbQCS</a></p>&mdash; Le Bataclan (le_bataclan) April 13, 2016
However, it has announced the first acts to perform from November 16, which will be just three days after the first anniversary of the massacre.
The British rocker Pete Doherty is the first on the list, followed by Senagalese singer Youssou N'Dour, the American group Nada Surf and the French band MZ.
Pete Doherty is to re-open the Bataclan on the 16th of November in what is set to be an incredible night pic.twitter.com/cRL3xQJsyK

— The Libertines (@libsjournal) April 13, 2016
The Bataclan has been closed since three terrorists opened fire on a crowd of 1500 people during a concert by the US band Eagles of Death Metal.
It was part of a series of deadly attacks on the night of November the 13th last year which claimed the lives of 130 victims.
The Bataclan details reopening plans & announces first concerts after Paris attacks https://t.co/63vPAICrT7pic.twitter.com/V7KslVsRKd

— billboard (@billboard) April 13, 2016
The Bataclan will reopen one year after terror attack, petedoherty</a> among first performers <a href="https://t.co/R3F93aqaEh">https://t.co/R3F93aqaEh</a> <a href="https://t.co/g4op9qY3rw">pic.twitter.com/g4op9qY3rw</a></p>&mdash; Stereogum (stereogum) April 13, 2016
Le Bataclan has announced it will reopen, with Pete Doherty playing one of its first gigs https://t.co/vK432KbjHnpic.twitter.com/mxEG2ycbUD

—

NME

(@NME) April 13, 2016