Barcelona crash out of Champions League to Atletico Madrid
Comments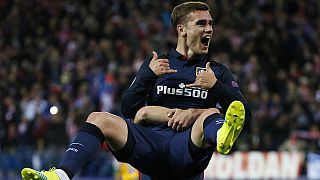 Benfica gave Bayern Munich a fright on Wednesday night by going into an early lead in their Champion's League final four decider.
But then the Germans equalised, scoring a precious away goal and after that all they had to do was hang on . Two more goals came at one apiece, and that meant a draw and the Germans were through.
In the other match the city of Madrid bid to get two teams into the semis when Atletico Madrid were pitted against Barcelona. The home side took an early lead against the misfiring Catalans who have seen their la liga lead collapse and are playing well below their exhalted standards at the sharp end of the season. A second goal sealed their fate.
So the final four looks like this: Real Madrid, questing for their 11th title, Manchester City, Bayern Munich and Atletico Madrid.