Italy: 5-Star Movement co-founder Gianroberto Casaleggio dies at 61
Comments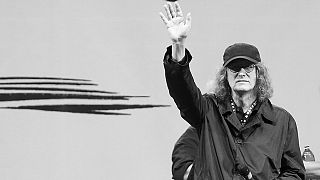 Tributes are being paid to Gianroberto Casaleggio, co-founder of Italy's anti-establishment 5-Star Movement with ex-comedian Beppe Grillo, who has died at the age of 61.
A web developer seldom seen in public, Casaleggio masterminded the populist movement which has become Italy's second biggest party, pioneering so-called direct democracy, with online ballots to decide strategy and select candidates.
Gianroberto Casaleggio, the co-founder of Italy's Five Star Movement, dieshttps://t.co/FvqswrK3eQpic.twitter.com/bCiCRCRZNW

— Indy People (@TheIndyPeople) 12 avril 2016
Speaking about their partnership, he said: "I think the difference between the two of us is more than anything a matter of character. We have very different characters and also professions. He is an artist and I am fundamentally a businessman, an entrepreneur. They are two very different worlds."
Casaleggio had been ill for some time and had surgery for swelling of the brain in 2014.
Grillo, the frontman in the team, bid goodbye online, saying his long time collaborator had 'fought to the end'.
#CiaoGianrobertopic.twitter.com/CKpEaEdSJs

— Beppe Grillo (@beppe_grillo) 12 avril 2016
Nobel prize-winning writer Dario Fo said Casaleggio was 'a man of extraordinary knowledge'.
And Nigel Farage of Britain's anti-EU UKIP party, took to Twitter with his tribute, hailing Casaleggio as a 'genius'.
Sad to hear of death of Gianroberto Casaleggio, genius behind @beppe_grillo's Five Star Movement. He was an inspiration for the new politics

— Nigel Farage (@Nigel_Farage) 12 avril 2016