Brazilian committee recommends Rousseff impeachment
Comments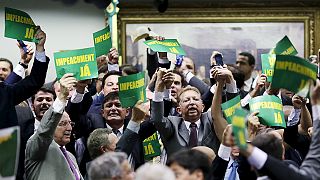 Committee recommends Rousseff impeachment
Ex-president, Lula da Silva says it's coup
Vice-president releases audio tape in major gaffe
A Brazilian congressional committee has decided that there are grounds to impeach embattled President Dilma Rousseff.
In an often heated debate and amid chaotic scenes the 65-member committee voted by 38 to 27 to move the process forward to a crucial vote on April 17 or 18 in the full lower house of Congress.
Brazil impeachment committee backs ousting Dilma Rousseff | READhttps://t.co/DuLQrgSZxw

— The Indian Express (@IndianExpress) April 12, 2016
Rousseff is facing accusations that she manipulated government accounts to hide a growing deficit to boost her reelection prospects in 2014.
The battle over her impeachment has polarized the nation and brought the government of Latin America's biggest economy, to a virtual standstill.
"It's a coup attempt"
Her predecessor who is facing his own graft investigation, the former Brazilian President Lula da Silva lead a big support rally in Rio de Janeiro on Monday night.
"I had never imagined that at 70 years of age, I would see people orchestrating a coup to remove a president democratically elected by popular vote," Lula told his audience.
Chico Buarque & #Lula – Anti-impeachment pro-democracy act #CulturaPelaDemocracia, Lapa, Rio #Brazilpic.twitter.com/rPEeAkBLrP (MidiaNINJA</a>)</p>&mdash; Angela Milanese (AngelaMilanese) April 12, 2016
Rousseff has denied any wrongdoing and is rallying the rank and file of her Workers' Party. But caught in a political storm fueled by Brazil's worst recession in decades and biggest ever corruption scandal, Rousseff has lost key coalition allies in Congress.
And its hasn't helped that Vice President Michel Temer released an audio tape by mistake that showed him preparing to take over should she be forced out, with him calling for a government of national unity.
Her opponents need 342 votes or two thirds of the house, to approve impeachment and send the the process to the next stage in the upper chamber.