Brazil: President Dilma Rousseff fighting for her political life
Comments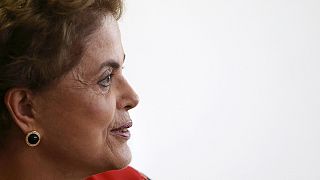 Abandoned by her her vice-president, Michel Temer, many of her allies and fighting for her political life with calls for impeachment strengthening it looks ever more likely the president of Brazil Dilma Rousseff will not complete her second term. The largest party in the coalition has voted for an immediate exit from government.
At its leadership meeting yesterday the Brazilian Democratic Party the PMDB decided its six remaining ministers in President Rousseff's cabinet must resign or face ethics proceedings.
The announcement came a day after tourism minister Henrique Eduardo Alves quit the cabinet.
Rousseff's Workers Party the PT has already lost the support of 40 deputies from two other parties the PRB and PTB while 49 from another ally the PP could follow next Wednesday.
The PT has 68 deputies and to stop the impeachment the president has to convince 172 out of 513 deputies to vote against the move to impeach her in mid April.
The moves to impeach the president were started last autumn and introduced in the middle of March. The process centres on the question of whether Dilma Rousseff manipulated accounts to hide a growing deficit.
She has argued the handling of government accounts aimed to shore up funds for social programmes were the same methods used by previous administrations.
"It is a party tainted with corruption, and the government of President Dilma Rousseff also has this stain of corruption and lies. We are here today to present an impeachment petition in the name of lawyers, whom I have already mentioned, and also the opposition, but most of all, in the name of the Brazilian men and women," said Carlos Sampaio, leader of main opposition party PSDB launching the petition last year.
In claiming all of her predecessors had used the same practice she denounced the process as one without any legal basis and so making it an attempted coup against the institutional state.
"Those who are calling on me to resign are showing the fragility of their conviction of the process of impeachment because above all they are trying to instigate a coup against our democracy," she told her supporters.
This political crisis is being played out to the backdrop of the worst recession in the country for over a century. In 2015 GDP fell by 3.8 percent. A recent survey showed the president's popularity has dropped to just 10 percent and 68 percent of Brazilians want her out.
That would suit Michel Temer her vice president since she was first sworn into office. The president of the centrist PMDB was put into the vice presidency by Rousseff's mentor and predecessor, Lula da Silva. It is a political marriage that now runs the risk of become a divorce.