Police clear Paris protest camp but 'Up All Night' movement vows to return
Comments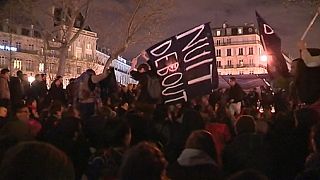 Police in Paris have evacuated a protest camp in the city's Place de la Republique, occupied for 11 consecutive nights by demonstrators demanding social change.
Security forces moved in early on Monday to clear the nocturnal sit-in, meeting no resistance from those taking part – perhaps because they were planning to return later to resume the so-called 'Nuit Debout' movement – roughly translated as 'Up All Night'.
Stemming from opposition to government labour reforms, it has sparked wider social demands.
"I am an estate agent," one protester explained, saying that he has been coming to the square after work or between meetings, whenever he can.
" What is wrong? I don't know exactly," a woman said.
"I am a young graduate. I can't find a job. It is complicated.
"I am a bioengineer. But I am having to change profession before even getting a foothold in the field I studied for. We are told to do things properly. We do that and then it doesn't work. So there is a problem."
The contested labour reforms, aimed at loosening France's protective employment laws, were on the agenda as students and youth leaders met Prime Minister Manuel Valls on Monday – amid determination that 'Up All Night' will continue in Paris and in provincial cities nationwide.
Socialist President Francois Hollande, the least popular serving president in modern French history, is trying to make good on his pledge to bring down an unemployment rate that has failed to drop below 10 percent but his reform plans have triggered strikes and several days of national protest.
Demonstrations on Saturday turned violent, with clashes on the sidelines leading to a number of injuries and arrests in Paris and Rennes.
Eight arrested as Paris protest against labour reforms turns ugly: https://t.co/M00ExSSU2jpic.twitter.com/dCFThuQhbs

— Independent.ie (@Independent_ie) 10 avril 2016