Hungary does U-turn over Sunday trading ban
Comments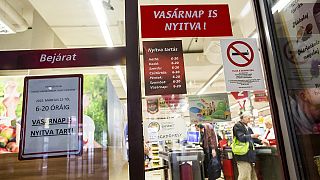 Hungary's government has been forced into a u-turn and is scrapping a ban on Sunday trading. The opposition Socialists had been pushing for a potentially awkward referendum on the law which has proved unpopular with Hungarians.
For the past year all but the smallest retail outlets have been forced to close on Sunday. Parliament is to rescind the ban today.
The retreat represents a tactical victory for the Socialists, but Prime Minister Viktor Orban's ruling nationalist Fidesz party, in power since 2010, remains well ahead of its rivals in polls. The next parliamentary election is due in 2018.
Hungary to scrap unpopular Sunday trading ban https://t.co/Yf1fk350gI

— The Hungary News (@TheHungaryNews) April 11, 2016