Germany steel workers stage nationwide protests over job fears
Comments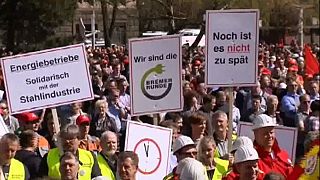 Thousands of German steel workers have held nationwide protests against the influx of cheap Chinese imports and the uncertainty over the future of Thyssenkrupp's steel works.
A possible merger with India's Tata Steel has caused alarm with Tata currently selling its steel business in Britain endangering thousands of jobs.
More than 45,000 took part in protests throughout Germany, IG Metall union said.