El Morabity continues perfect record in 31st edition of Marathon des Sables
Comments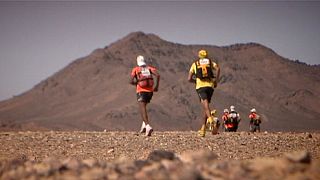 The brave men and women of the Marathon des Sables tackled stage two on Monday.
Lighter winds made the going a little bit easier than the day before as the competitors covered the 41.3 kilometre challenge from Erg Znaïgui – Oued Moungarf in the Moroccan Sahara.
Local hope and defending two time champion Rachid El Morabity maintained his perfect record in the 31st edition of the race.
After claiming stage one he repeated the feat in stage two crossing the finish line ahead of Abdlekader El Mouaziz.
Natalia Sedykh of Russia claimed the stage in the women's race while French runner Nathalie Mauclair – the same finishing order as stage one.