Atleti pile pressure on wobbly Barca in Spain while Leicester continue march towards stunning Premier League title in England
Comments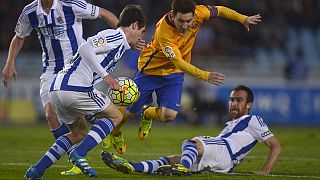 It was certainly a week to forget for Barcelona in terms of domestic league displays.
The Catalan giants followed up their El Clasico defeat by arch rivals Real Madrid a week ago with a 1-0 loss to Real Sociedad at the weekend.
Mikel Oyarzabal scored the only goal as Barca's wait for a first away win over Sociedad since 2007 continued.
It wasn't the best way to warm up for their Champions League quarter-final second leg against their La Liga title rivals Atletico Madrid, who in turn will be full of confidence after their 3-1 league win over Espanyol – a result that blew the title race wide open.
Diego Simeone's men maintained the pressure on pace setters Barca when they came from behind for the win.
Antoine Griezmann, Fernando Torres and Koke all found the back of the net as the capital club reduced Baca's lead to just three points – only three weeks ago Barca's lead was nine points.
They will now look to overturn a 2-1 deficit scoreline when they host Barca in the champions League on Wednesday.
Fearless Foxes
This time last season Leicester City were bottom of the table – 12 months on and they are on the verge of winning a the club's very first English topflight title.
On Sunday Jamie Vardy scored a double to hand the fearless Foxes a 2-0 win over relegation strugglers Sunderland.
With his brace Vardy reached 21 league goals for the season – the first player from the club to surpass 20 goals since Gary Lineker 31 years ago.
Claudio Ranieri's men are seven points clear of second placed Tottenham – who thumped Manchester United 3-0 the same day – and need three wins from their last five games to seal a remarkable Premier League crown.
Up and down
Up next is a list of players and clubs that stole the limelight for good or bad from last weekend's action. It's our up and down segment.
On the up is Cristiano Ronaldo whose goal scoring abilities are second to none. And the stats are there to prove it. At the weekend he scored against Eibar to become the first player in Europe's top five leagues to reach the 30-goal mark in six consecutive seasons.
Andy Carroll is Up after hammering home a seven-minute hat-trick against Arsenal in a gripping 3-3 draw. His exploit in front of goal has given England manager Roy Hodgson a selection headache for Euro 2016. Will it be enough to persuade him to take a punt on the player – time will tell.
On the down is French first division side Monaco who were beaten 4-1 by Lille on match day 33. With the defeat the principality club relinquished second place in the league to Olympique Lyonnais, who six games ago were trailing Monaco by 10 points.
Road to Euro
There are two months to go until Euro 2016 and we will end our trip through the competition's past with one of the coaches who re-wrote the football history books and is now hoping to write another chapter to his remarkable story this summer in France.
By leading Spain to victory at Euro 2012, Vicente Del Bosque became the first coach in history to win titles at the UEFA European Championship, the Fifa World Cup (South Africa 2010 with Spain) and the UEFA Champions League (with Real Madrid 1999-2000, 2001-2002).
We might be wrong
We're not far off knowing which clubs are going to play the Champions League's semi-finals. We already know the results of the quarter final first legs; but what about the return legs? Here are our predictions for those games. Add yours via social media using #TheCornerScores.
Manchester City 2-1 Paris Saint-Germain
Real Madrid 3-0 Wolfsburg
Atlético de Madrid 1-0 Barcelona
Benfica 2-1 Bayern Munich
Bloopers
Very often, the goalkeepers are the main content suppliers of our ''Bloopers'' segment. Today we're going to show you two of them. One, really lucky. The other, really clumsy. (Check out video above)