At least 14 die in suicide attacks in Afghanistan
Comments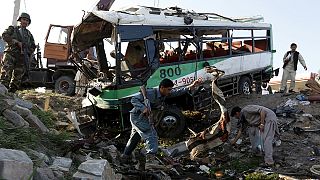 Suicide bomber kills 12 army recruits
Two government workers killed in Kabul
Concerns the Taliban has embarked on a spring offensive
The news
A Taliban suicide bomber on a motorbike has killed at least 12 army recruits on a bus in eastern Afghanistan.
Separate bomb attacks kill more than 14 in Afghanistanhttps://t.co/KHRwv4K2Cvpic.twitter.com/Z2×23e1ICd

—

TRT

World (@trtworld) April 11, 2016
The attack targeted a bus in the Sorkh Rud district of Nangarhar province on the border with Pakistan.
38 people have been wounded. Officials expect the number of casualties to rise.
Two people killed and seven wounded when #Afghanistan's Ministry of Education bus was hit by a bomb. #TwitterKurdspic.twitter.com/BtYogda1tK

— Kurdistan24 English (@K24English) April 11, 2016
Bomb kills two education ministry
workers in #Afghan capital #Kabul#Talibanhttps://t.co/fmo7KfDqDNpic.twitter.com/EQWP3JcN5o

— Gulf-Times (@GulfTimes_QATAR) April 11, 2016
Two people died earlier in the day in a separate attack in the capital, Kabul.
A bomb blew up a minibus carrying Education Ministery workers in eastern Kabul. Seven people were also wounded.
Interior Ministry spokesman Sediq Sediqqi says the explosion was caused by a magnetic bomb attached to the bus.
Was the same group behind both attacks?
It is not yet clear.
Taliban spokesman Zabihullah Mujahid said the group had carried out the attack outside Jalalabad.
However, no group has claimed responsibility for the Kabul attack.
What is the background to the attacks?
Government workers and members of the security forces are often targeted by insurgent groups, including the Taliban, who are seeking to topple the US-backed government in Kabul.
The Taliban have stepped up their insurgency since most foreign troops withdrew from Afghanistan at the end of 2014. There has been a period of relative calm over the winter months.
The concern is the Taliban is preparing to launch a spring offensive.
What they are saying
"The suicide bomber was on a three-wheel motorcycle and targeted new army recruits who were heading to Kabul for training,"_ – police spokesman, anonymous
"It was a crowded area and it is hard to say now how many of them were from the defence ministry," – Defence Ministry spokesperson Dawlat Waziri
"It (the blast) was very powerful and threw me out of the car window. A few minutes later, I found myself in a wheat field and then I rushed to the site of the attack and helped some injured people and they were taken to hospital." – Kabul bus conductor Rahim Gul.