U.S.: Bernie Sanders wins Wyoming as winning streak continues
Comments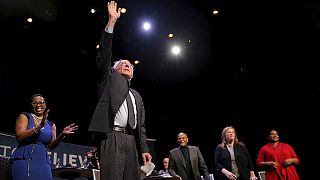 Bernie Sanders has secured victory in Wyoming in the latest stage of the Democratic nomination contest for the US presidential elections.
It was a decisive win in Wyoming, the seventh state he has taken in a row, giving him eight out of nine victories.
"We have won eight out of nine last contests," Sanders told a press conference. "We're looking forward to New York and other states as well. We are in this race to win. We have a path to victory and our intention is to win the Democratic nomination and then win the general election," he said.
His rival, Hillary Clinton, still has a clear lead in the race with 1,755 delegates compared to Sanders 1,068.
The nomination will go to whoever wins 2,383 delegates.
Both now have their sights set on the the key New York primary later this month.