Ukraine's parliamentary speaker set to become new PM
Comments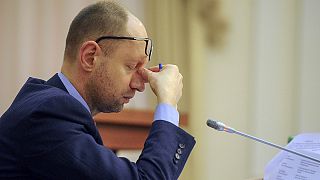 Ukrainian Prime Minister Arseniy Yatsenyuk has signalled his support for parliamentary speaker Volodymyr Groysman to replace him after tendering his resignation on Sunday.
Groysman is an ally of President Petro Poroshenko and if parliament approves his appointment on Tuesday, Poroshenko will have consolidated his power by installing a member of his own party as premier.
The BPP has nominated V.Groysman to the post of PM. Having done all to ensure stability, I declare my decision to transfer the responsibil-s

— Arseniy Yatsenyuk (@Yatsenyuk_AP) April 10, 2016
Yatsenyuk's going has come as no surprise. His government has been accused of inaction and corruption and in February he only narrowly survived a vote of no confidence in parliament.
He announced his resignation in a TV broadcast and on social media.
I have taken the decision to resign as Prime Minister of Ukraine. On Tuesday, April 12 my request will be submitted to the Parliament

— Arseniy Yatsenyuk (@Yatsenyuk_AP) April 10, 2016
But Kyiv residents said the resignation of Yatseniuk was unlikely to improve the situation in the country, with some even fearing it could become worse.
"Yatsenyuk was a populist. Actually all measures he initiated, all the work he did was for the sake of his image.
In reality the laws they passed were aimed at lobbying particular groups and certain interests. They were just splitting the funds and channeling away the money."
"I think it (situation) will become even worse. Perhaps it looks like it can't get any worse than it is now already but judging by the fact that (parliamentary speaker Volodymyr) Groysman will be appointed a new prime minister, as experts say, it will be even worse for us,"
Any new government will now be under intense pressure, both from Ukraine's European and American partners, and the Ukrainian people, to implement real reform.
Several high-profile reformers have left the government in recent weeks, claiming it was failing to tackle corruption.
The International Monetary Fund (IMF) has threatened to withhold aid money (around 14.5 billion euros) if it does not carry out reforms.
Ukraine's EU ambitions suffered a setback last week when voters in the Netherlands roundly rejected a landmark EU trade deal with the former Soviet state in a referendum.