Ukraine's economy minister quits over 'corrupt vested interests'
Comments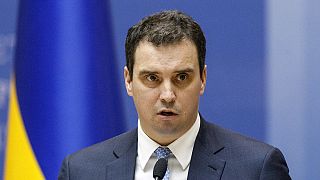 Ukraine's economy minister has announced his intention to resign.
Aivaras Abromavicius said his ministry was being hijacked by corrupt vested interests.
The Lithuanian-born former asset manager was brought in as part of a foreign team of experts to help run Ukraine's new government.
There has been mounting public anger that Ukraine's pro-Western administration has failed to deliver on promises to crack down on corruption and, more specifically, on powerful oligarchs.
In his resignation statement, Abromavicius singled out a close ally of billionaire President Petro Poroshenko, accusing him of blocking his ministry's work and trying to control its revenue streams.
Ukraine's international backers, including the European Union, have also become increasingly impatient with the slow pace of change in a country into which they have pumped billions of euros in aid.
Some other cabinet members have also expressed frustration at the pace of progress in their ministries.
Ukraine's parliament was expected to vote on whether to accept Abromavicius's resignation.