Heavy rainfall in Romania set to continue until Monday evening
Comments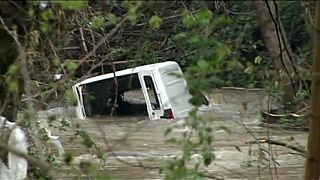 A flash flood in Romania has swamped houses, killed livestock damaged a section of country road and displaced two cars.
About 200 households were affected in the villages of Nadas and Aldesti in Arad county where the water level exceeded 50 centimetres in many areas.
"We were taken by surprise, water poured inside our house," said one woman. "We were not able to save anything. It is a disaster. Our livestock – the pigs, the hens were killed."
Meteorologists warned that heavy rainfall will occur in Southern, Central and Eastern Romania until Monday evening. A yellow code warning was issued for 17 Romanian counties.