Bank robbers rumbled two years after digging through sewer into vault
Comments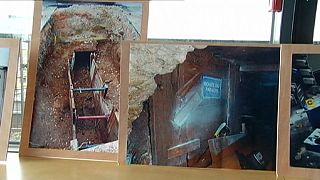 Fourteen men have been arrested in connection with a bank robbery two years ago in the French city of Toulouse.
They dug a tunnel through a sewer network to the bank's vault, escaping with two and a half million euros.
The robbers were rumbled after police found high tech equipment in their houses.
"We found police armband, police uniforms, high tech material, button cameras, computers, scramblers, geolocalization tags…," said Marie-Madeleine Alliot, Prosecutor of Bordeaux.
.