DNA test shows Archbishop of Canterbury's father was Winston Churchill's private secretary
Comments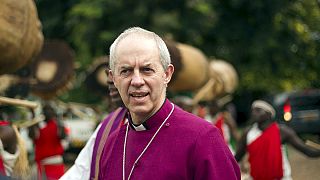 The Archbishop of Canterbury has discovered his real father was a private secretary to Winston Churchill.
Justin Welby had always believed his father to be Gavin Welby, a whisky salesman and alcoholic, who was married briefly to his mother.
He took a DNA test after the Telegraph newspaper approached him saying it believed Sir Anthony Montague Browne was his biological father. His results were compared with samples from a hairbrush kept by Sir Anthony's widow. They showed a 99.9779% probability they were father and son.
His mother, Lady Williams of Elvel, was also a private secretary to Churchill. In a statement published on the internet, she confirmed the "liaison" with Sir Anthony but said she had always believed his father to be Gavin Welby and the news was an "unbelievable shock."
The Telegraph reports that members of Montague Brown's family, including his wife, had thought it possible the two were related because of a strong physical resemblance.
Sir Anthony Montague Browne died in 2013, shortly after Justin Welby was installed as Archbishop of Canterbury.
Read Justin Welby's personal statement issued through Lambeth Palace.