Santiago, Chile comes to standstill in taxi protest against Uber
Comments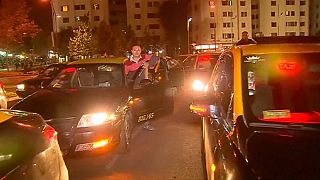 Taxi drivers in Chile have been protesting against private car companies like Uber and Cabify.
Thousands of taxis lined up in the centre of the capital Santiago for a two day strike, bringing the city to a standstill.
They say the private car companies take away their clients and compromise passenger safety.
Authorities in Chile have promised to crackdown on the car sharing firms.