Nagorno-Karabakh truce shows signs of fracture
Comments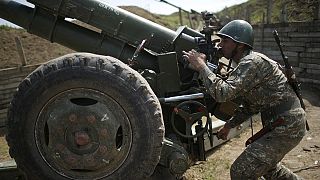 An uneasy truce is already showing signs of fracture in the breakaway region of Nagorno-Karabakh.
Azerbaijan has accused Armenian-backed separatists of violating a new ceasefire agreed on Tuesday. While the Armenian side accused Azerbaijan of shelling its positions.
Nagorno-Karabakh lies inside Azerbaijan but is controlled by ethnic Armenians. It has run its own affairs with Armenian support since a separatist war ended in 1994. A ceasefire had held since this date, but no official peace deal was signed.
That ceasefire was shattered over the weekend, and dozens of people were killed. Azerbaijan's army said they had seized territory from the separatists towards the border with Iran. Azeri officials said that ethnic Armenian forces had been using the positions to launch artillery strikes on Azeri villages.