Flydubai crash could have been pilot error - investigators
Comments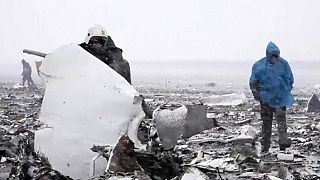 Russian investigators have said pilot error could be to blame for the crash of a Flydubai passenger flight in March, but added the conditions and their actions were still being evaluated.
They said the flight entered a steep dive due to crew action before it came down in Rostov-on-Don killing all 62 people on board.
The Moscow-based Interstate Aviation Committee (IAC), said the plane had been flown in a "contradictory manner" in the minutes leading up the crash.
The crew had decided to abort landing and circle round again. They had begun to gain altitude when the controls of the plane were abruptly pushed away, pushing its nose lower.
That, combined with the angle of the tail fin, sent the plane into a steep dive which the pilots were unable to pull out of, the IAC said.