David Cameron: a question of trust
Comments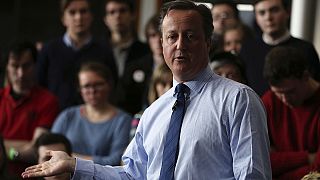 The British Prime Minister woke up to find himself headline news and facing mounting pressure to resign over links to offshore finances. Iceland's prime minister was the first head to roll after the Panama Papers leak, David Cameron must now be wondering if he can weather the media storm and win back the public's trust.
It took Cameron four days of semi-denials before he came clean. "He must have known beforehand mustn't he," said one Londoner. " I think he should have put his hand up and been honest from the offset, when it all came out. Or beforehand, before it all came out."
The Panama Papers have divided opinion, with some saying it's no surprise that the world's richest and most powerful people are implicated in offshore finance schemes. "I think very rich people will always find ways of hiding their money," said one London woman.
People have been quick to point out the hypocrisy of the prime minister having funds offshore to avoid tax, after he had so vocally chastised celebrities in the UK for doing the same thing. "It is no different from the man in the street doing cash-in-hand work is it? Is that morally correct," asked one London resident.
Protests are scheduled over the weekend in the UK. "I wouldn't like to be in his place," said one London man. "He should go. Since what he has done to the doctors, the police force and everybody else – David: You should go."
It may take a grand gesture from Cameron to win back public support and keep his feet under the desk of Number 10.
Do you trust him?

Posted by euronews on Friday, 8 April 2016
The Interview
euronews' James Franey spoke with Joe Churcher, the chief political correspondent for the Press Association.
James Franey, euronews: The British government -at least on the global stage – has styled itself as a champion of tax transparency. How do you assess how Mr. Cameron has handled this?
Joe Churcher, Press Association: That's exactly the problem because he has been a champion of this. He has put himself out there as a crusader for transparency in tax havens and he has criticsed publicly celebrities who avoid tax. He's called it "immoral". For those reasons, it was important for him not to be associated at all with this sort of thing. Now, he says – and perhaps quite rightly so – that this particular vehicle that his father set up wasn't designed to avoid tax and that he's paid all that was meant to do. But to be associated at all with a vehicle that's set up in a tax haven that involves or uses techniques that were banned by many places later – because of the secrecy that they were designed to bring in – is damaging in itself. Then to appear unwilling, at least initially, to be clear about the level of his involvement in this particular scheme is a massive own goal and could be very damaging.
euronews: And it's worth underlining perhaps that this is tax avoidance that we are talking about, which in itself is not illegal – unlike tax evasion. There have been a lot of rumours swirling around Westminster about who is going to take over from David Cameron. Do you think this scandal could have an impact on his leadership? Will he have to resign over this, do you think?
Churcher: I don't think so. There are some figures, backbench figures mainly, calling for Cameron's resignation. But certainly the leadership of the main parties is not going that far. As you rightly say, avoidance in itself is not illegal. So Mr. Cameron hasn't done anything wrong in that sense. It is more in the perception of it and how it relates to what he wants to do elsewhere. I think there are some interesting implications for this as to whether it will speed his departure. Obviously Mr. Cameron has said he will go before the next general election. Well, he'll go through to the next general election, but not fight that one as the leader. So, might it speed up his departure? It could if he feels that he wants to get out. I think the other implication which is interesting is that he has repeated his willingness to publish his tax returns and be open and public about those. And that is something that he has indicated that he thinks prime ministers and potential prime ministers should do. I think he was referring to the leaders of the opposition. But that's something to think about for the people who may well be looking to follow him.
euronews: Indeed, of course, there is this referendum on EU membership coming up in June. This was the week that the prime minister was really going to be setting out his stall, telling the British public: trust me. We need to stay inside the EU because it's better for Britain. Do you think this will have an impact on how Britons vote in that referendum?
Churcher: I think it could. Potentially, it could. There is certainly some concern behind the scenes about that. I think there is no doubt that the Remain camp, the camp that want Britain to remain in the EU at the referendum on June 23rd, see the prime minister's authority – the prime minister telling voters that he wants Britain to stay in as quite an important factor in this. And if issues such as this, the government's handling of the Tata Steel crisis in Port Talbot, the rows within the party over disabled benefits and things like that. If these things undermine the faith in the prime minister amongst voters more generally, it could be that they will seek to punish him and use the referendum to say "we don't like you or your government very much" and send the vote in the other direction.