The moment might finally have come for 4K TV
Comments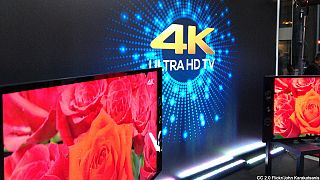 4K, or Ultra HD, is a technology that has been lingering in the background for several years now. If you haven't seen it yet, it looks a lot like your HD TV but with quadruple the number of pixels. Many people have described it as more similar to looking through a window than watching TV.
Until now real interest in 4K has been scarce because there just wasn't enough equipped TVs or content around, but that is starting to change. In 2015 a third of all new connected TVs were 4K and providers are finally investing big in content, with Netflix offering over 600 hours of 4K programming in 2016.
Things to know about Ultra HD
4K takes its name from the digital cinema resolution 4,096 by 2,160. In reality commercial '4K' is not quite 4,000 pixels but actually 3,840 × 2,160 pixels.
To try and avoid confusion people started calling it Ultra HD or

UHD

but the 4K title seems to be sticking better.
The distance between you and the TV has a big impact, for the best experience you should get closer to your 4K TV than you would your HD TV.
The big brother of 4K is 8K, also known as 'Super Hi-Vision', it offers 7680 × 4320 pixels and is currently the highest digital resolution. Japan is firmly in the driving seat of this particular tech innovation. According to Advanced Television some of the 2016 Rio Olympic Games will be covered in 8K.
Even as 4K TVs are just beginning to catch on, there is already something new on the horizon and it's not more pixels.

HDR

(High Dynamic Range) allows the display of a wider and richer range of colours.
Yoshiharu Kashima of

NHK

admitted at

MIPTV

in Cannes that

HDR

creates a number of challenges, particularly in make-up and set design.
It's hard to be completely convinced by the arguments for buying an expensive 4K TV, so while at MIPTV Euronews spoke to Claudia Vaccarone, Head of Market Research at Eutelsat, to get some answers.
One of the big questions not clearly answered is how far can the upscaling of pixels go before it's just not possible for the human eye to notice any more?
More from this year's MIPTV
Virtual reality can – and will – be used for storytelling
How is TV consumption changing around the world?