Rwanda and the fight against genocide ideology
Comments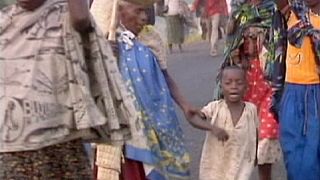 Twenty-two years ago on April 7, Rwanda's ethnic Hutu militia, armed with machetes began slaughtering minority Tutsis. More than 800,000 people were systematically murdered in 100 days including Hutu's who refused to join in the killing.
It followed the shooting down of the plane carrying then-president Juvenal Habyarimana.
To this day the United Nations says about a third of survivors are still traumatised.
Adama Dieng, UN Special Advisor on the Prevention of Genocide has warned that divisions in society can, given the right circumstances, lead to an ideology of genocide:
"Genocide doesn't happen overnight. Genocide is a process. It takes time, it requires resources, planning and we do know that genocide is always preceded by serious violations of human rights. We need to invest more to remind the leaders of their role in managing diversity in the most constructive manner."
.IBTimesUK</a> visits <a href="https://twitter.com/hashtag/Rwanda?src=hash">#Rwanda</a> on the anniversary of the massacre: <br>"The genocide is very close, 22 years is nothing" <a href="https://t.co/ownfrq33YR">https://t.co/ownfrq33YR</a></p>&mdash; IBTimes UK (IBTimesUK) April 6, 2016
In 2015 Rwanda's genocide court held its last hearings but despite dozens of convictions there are still many people who have escaped justice and a most wanted list has been issued by The Mechanism for International Criminal Tribunals (MICT).
Today the emphasis is more on the need to learn the lessons of the past and to support the healing among those who survived.