Questions raised about German secret service links in neo-Nazi murder case
Comments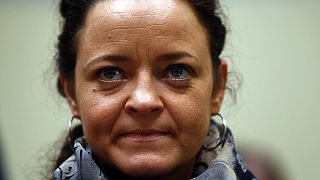 What did the secret service know?
That is the shock question raised by the German press on Thursday as the trial of the lone surviving suspect in a neo-Nazi murder case rumbles on.
Reports claim that defendant Beate Zschaepe and one of her alleged male accomplices, Uwe Mundlos, were once employed by an informant of Germany's domestic intelligence agency.
Neo-Nazi NSU members employed by government informant, media report https://t.co/yyrCUtQgcvpic.twitter.com/sMIJbZ6z0E

— dwnews (@dwnews) 7 avril 2016
The duo and a third man, Uwe Boehnhardt, were based in Zwickau in eastern Germany.
The covert cell it is claimed they formed, called the National Socialist Underground (NSU), allegedly carried out a series of racially-motivated murders between 2000 and 2007 that claimed the lives of ten people, mostly of Turkish background.
Now on trial for nearly three years in Munich, Zschaepe denies any involvement, presenting herself as a victim of the two men who both committed suicide in 2011 when the cell was found by chance by police.
Authorities have been criticised for initially failing to view the killings as racist crimes.
Investigators assumed they must be due to feuds within the Turkish underworld and their one-sided investigations led to a series of dead-ends.
Victims' families have spoken of their despair at finding themselves the object of suspicion in the midst of their grief.