'Panama Papers' push Iceland's PM to resign
Comments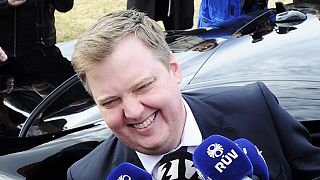 Iceland's under pressure prime minister,Sigmundur Gunnlaugsson has tendered his resignation after his family's offshore investments were revealed in the 'Panama Papers' leak.
Greed brings down Iceland's prime minister Sigmundur Gunnlaugsson. Who's next? https://t.co/KhIO5bA4cZ#PanamaPaperspic.twitter.com/hNmyGySHcz

— James Cook (@BBCJamesCook) April 5, 2016
The move must first be approved by his government's coalition partners and the president before becoming official.
Gunnlaugsson and his wife allegedly set up a company in the British Virgin Islands with help from Mossack Fonseca the Panama law firm at the centre of the scandal.
1000s protesting outside Parliament in Reykjavik after PM's implication in #PanamaPapers. https://t.co/knptjaqbv5pic.twitter.com/LMR6FZUhJm

—

NBC

Nightly News (@NBCNightlyNews) April 4, 2016
Reykjavík has been alive with protests following the revelations:
"We have to do something very strong, definitive, and a very clear message, that it is not in our character and these fake changes in government is not sufficient for us," said one protestor.
We await the next move.