International Space Station gears up for new 'space hotel'
Comments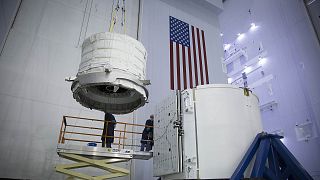 Every few months the crew on board the International Space Station are used to receiving food, clothes, scientific and computer material, and other supplies from Earth.
However later this week will be a first for the ISS: it is due to be sent the first ever "space hotel".
If it sounds like science fiction, there are not – yet – any paying guests. Nor is there any meaningful room service to speak of.
It is, in fact, an experimental living space in the form of a giant inflatable ball. NASA calls it 'an expandable habitat'.
Made by Bigelow Aerospace, the "BEAM" (Bigelow Expandable Activity Module) is due to be launched aboard Space X's Dragon spacecraft, folded inside a compartment.
We're launching an expandable habitat to Space_Station</a> on <a href="https://twitter.com/SpaceX">SpaceX#Dragon Friday. See why: https://t.co/OwFFoEx19wpic.twitter.com/A9xRCk96xE

—

NASA

(@NASA) 2016. április 5.
Once attached to the space station via its mechanical arm to a berthing port, BEAM will be inflated before beginning a two-year trial period to test whether it's safe for human living.
Bigelow claim to have created a top-secret material, providing protection against radiation and the micrometeorites that pose a regular threat to the station.
.astro_timpeake</a> has left a TripAdvisor review for the ISS&#39;s new "space hotel" <a href="https://t.co/kXCE6VNbDT">https://t.co/kXCE6VNbDT</a> <a href="https://t.co/CC6P9MMIAM">pic.twitter.com/CC6P9MMIAM</a></p>&mdash; HuffPost UK Comedy (HuffPostUKCom) April 5, 2016
During the trial period the room will not in fact be lived in. In reality the airlock between the station and BEAM will remain closed, with astronauts only entering to collect data and help the experiment.
With potential future trips to Mars in mind, it's hoped that NASA's expandable technology could provide a viable alternative to traditional space habitats.
.SpaceX</a> gets ready for <a href="https://twitter.com/hashtag/Dragon?src=hash">#Dragon</a> launch. <a href="https://twitter.com/NASA">NASA TV covers April 8 starting 3:30p ET/7:30p UTC. https://t.co/r2hKeJMYdGpic.twitter.com/op9FddJTPj

— Intl. Space Station (@Space_Station) 2016. április 5.