Brazil's Dilma Rousseff squares up for impeachment battle
Comments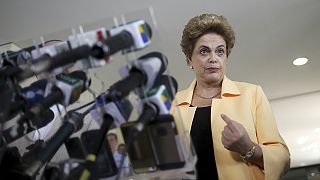 A defiant President Dilma Rousseff has said no to a cabinet reshuffle, ignoring calls for changes which could have boosted her political support and defeat an upcoming impeachment vote.
A special committee in Brazil's lower house is due to decide whether Rousseff broke the law by allegedly doctoring Brazil's fiscal accounts to hide a massive budget deficit before her 2014 reelection.
Political upheaval bullish for Brazil stocks: Investors are betting that an impeachment of President Dilm… https://t.co/6JoxTD60NV#cnc

— Top World News (@TopNewsA1) March 30, 2016
President Rousseff told journalists on a visit to a military airbase that she thought any attempt to use these allegations as a reason to ask for an impeachment, was a coup, "it's a coup because there is no legal basis."
Since Rousseff's main coalition partner, the Brazilian Democratic Movement Party (PMDB) broke away last week, her Workers' Party has called for her to replace six of the PMDB ministers who remain in office.
Observers had said they expected Rousseff to offer the posts to smaller parties to help secure their support in the impeachment vote.
It's not clear why she has refused. If Rousseff's foes score two-thirds of the 513 votes, the impeachment process against her moves forward in the Senate.
In the meantime former president Lula da Silva who himself linked to a sprawling corruption scandal involving Brazilian oil giant Petrobras, held a rally to show his support for his successor.
#Pakistan 'We won't accept a coup': groups unite to save beleaguered Dilm… https://t.co/fkO4t9fhOG

— Pakistan World (@pakistanepeak) April 2, 2016
And in a further development a Supreme Court judge in Brazil has ordered the lower house of congress to create a commission to analyse whether impeachment proceedings against Vice-President Michel Temer should go ahead over similar allegations of manipulating government accounts to hide a growing deficit.
Judge Marco Aurelio Mello overruled a decision by the speaker of the lower house who had rejected the request.
It raises the possibility that both the president and the vice-president could be ousted from office.