Panama Papers show how Syria and North Korea 'evaded sanctions'
Comments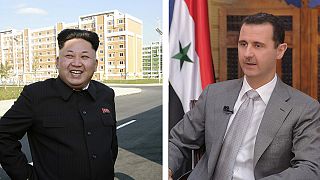 The leaked Panama Papers show that the firm at the centre of the affair had clients who were subject to international sanctions.
The Syrian government under President al-Assad was reportedly able to get round the sanctions and finance its war machine thanks to smokescreen companies based in the Seychelles.
Investigations have shown that Assad's billionaire cousin Rami Makhlouf was closely linked to the Panama law firm at the centre of the leaked information.
Although he was blacklisted for corruption and intimidation, Mossack Fonseca continued to front six businesses for Makhlouf after restrictions were imposed.
The Panama firm is also said to have helped three Syrian companies described by US authorities as supporting its repressive machine.
The companies allegedly provided fuel for military aircraft. Documents are said to show the planes' indiscriminate bombing killed scores of civilians.
Another firm aided by Mossack Fonseca is said to have had links to North Korea's nuclear weapons programme.
Reports say DCB Finance was registered in the British Virgin Islands in 2006, the year Pyongyang carried out its first nuclear test.
The Panama firm is said to have continued to act for the North Korean company for several years after UN sanctions were imposed.