Barcelona and Bayern Munich edge their Champions League ties
Comments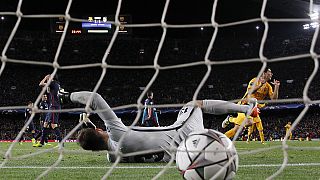 Home wins in the Champions League as Barcelona beat Atletico and Bayern beat Benfica.
Louis Suarez scored a brace for Barcelona to give the Catalan team the edge against Atletico-Madrid in the all Spanish quarter final of the Champions League.
The Uruguayan was the man of the moment as he bundled the first home in the 63rd minute before doubling up in the 74th with a bullet header.
Fernando Torres slid home to give Atletico a precious away goal before he was sent off after receiving two yellow cards.
Bayern Munich played host to Benfica Arturo Vidal was a man in a hurry after he headed home after two minutes in for the Germans match at the Allianz Arena.
The visitors could have snatched a draw when Jonas' second-half strike was blocked by Javi Martinez.
The goal will give the Bavarian outfit a slender lead and plenty to play for the rematch to be held in Lisbon in eight days.