Calls for calm after third day of fighting in Nagorno-Karabakh
Comments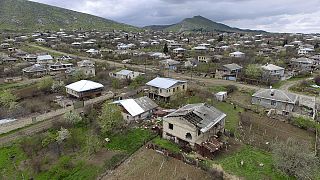 Armenia's president has warned that renewed fighting in the breakaway region of Nagorno-Karabakh could spiral into all-out war after a third day of fighting.
"A further escalation of military action could lead to unpredictable and irreversible consequences, right up to a full-scale war," President Serzh Sarksyan said in a speech opening a meeting with foreign ambassadors in the Armenian capital Yerevan.
Azerbaijan's Defence Ministry has said that if Armenian-backed forces continue to fire on civilians then its army will prepare to attack the region's capital of Stepanakert (known to Azeris as Khankendi). On Saturday the Azeri President Iham Aliyev accused Armenia of staging an armed provocation against his country.
In addition to dozens of reported casualties at the weekend, another four military personnel from the Armenian-backed forces were killed on Monday in fresh clashes with Azerbaijan forces, according to the Karabakh representative in France.
Hovhannes Guevorkian told Reuters that Azerbaijan was continuing to bomb towns in Nagorno and that the region would use fixed-wing combat aircraft if there was a new large-scale attack.
Russia's Foreign Minister Sergei Lavrov spoke to US Secretary of State John Kerry on Monday. His ministry added that both sides had called for a swift cessation in the fighting.
"We are seriously concerned and agree with the message that was sent by the Russian President outlining the necessity to resume the ceasefire as soon as possible", he said.
Sergey Lavrov & US Secretary of State JohnKerry</a> expressed concern over rising tensions in Nagorno-Karabakh ☏ <a href="https://t.co/SZkD8wGug4">https://t.co/SZkD8wGug4</a></p>&mdash; MFA Russia (mfa_russia) 4 April 2016
Lavrov also criticised as one-sided a statement from Turkey strongly supporting Azerbaijan. In a statement he said it would be "the right decision if Ankara concentrates on halting support for terrorism".
There are fears that an escalation in violence could drag in the two regional powers based in Moscow and Ankara, on opposite sides.
#Lavrov: Russia doesn't blame any specific outside forces for provoking the current crisis in Nagorno-Karabakh. This goes for Ankara as well

—

MFA

Russia (@mfa_russia) 4 April 2016
The latest outbreak of hostilities has brought old tensions to the surface.
Nagorno-Karabakh has a large ethnic Armenian population, who pushed Azeri forces out of almost the whole territory in a war in the early 1990s.
Both sides have blamed the other for the weekend's violence, which saw Azerbaijan's military and Armenian-backed forces attack each other.
Envoys from France, the US and Russia – joint mediators in the conflict – are to meet in Vienna on Tuesday to see what can be done.