Thousands protest government handling of peace process in Colombia
Comments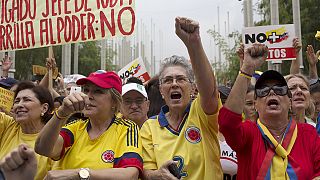 Thousands of Colombians took to the streets to protest President Juan Manuel Santos and his government's peace process with the FARC guerrillas. The demonstrators say he is caving in to the rebels' demands.
It comes days after the launch of talks with the country's second largest guerrilla group, the National Liberation Army.
The decades-long conflict has killed more than 260,000 people.