Butler's triple-double not enough as Pistons beat Bulls
Comments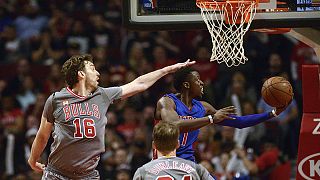 Jimmy Butler has notched up his first career triple-double, but it was not enough for the Chicago Bulls to overcome the mighty power of the Detroit Pistons.
The Pistons came out on top at the United Center in Chicago on Saturday night.
Butler notched up 28 points and career highs of 17 rebounds and 12 assists.
Reggie Jackson clock up 22 points for the Pistons, helping them to victory.
The final score: Detroit 94, Chicago 90.
The Pistons are now a half-game ahead of Indiana for the seventh playoff spot in the Eastern Conference and two-and-a-half games up on ninth-place Chicago.