Protesters in Sao Paolo want Dilma Rousseff out
Comments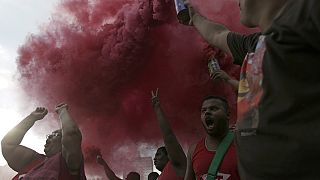 Hundreds of people took to the streets of Sao Paolo calling for the impeachment of Dilma Rousseff and early elections.
The Brazilian president is currently fighting efforts to remove her from office over alleged involvement in budget manipulation. Her survival depends on a vote to be held later in April.
At the demo, Brazilian Confederation of Pensioner's Representative Josias de Oliveira said:
"We think that things cannot remain like this, what they are doing today is botching things, and it means that nothing is going to change.
"They are just lying to the people again, as the Workers' Party has lied, as the PSDB has lied, just as that crook who is governing our country has lied."
Rousseff's Worker's Party is also embroiled in a sprawling corruption scandal centred on the state-owned oil company Petrobras.
On Friday police detained former leaders of the Worker's Party over an allegedly fraudulent loan. This is adding fuel to the push to impeach the president.
Competing protests have been held both for and against the impeachment over the weekend, a continuation of wide-scale protests across the country in the past year.
Since she was re-elected under a pledge to fight corruption, Rousseff has been battling to hold on to power.
And with mounting protests, her chances of surviving until the end of her term appear to be shrinking.