Women's US football team file wage complaint
Comments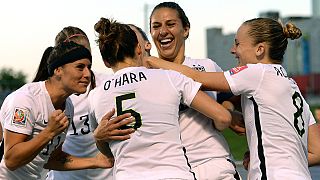 The equal pay debate between elite male and female athletes gathered more momentum this week when players from the Women's US football team filed a federal wage complaint.
The athletes, including star scorer Carli Lloyd, claim they generate more income for the US football Federation but are paid less than male players – some claim they earn as little as 40 percent of what their male counterparts make.
The players filed the complaint to the Equal Employment Opportunity Commission and in the letter demanded that the federation be investigated.
The three-time World Cup and four-time Olympic champions made at least $16 million for the federation in 2015 while the men's team lost money for the entity.
Two weeks ago tennis World number one Novak Djokovic said male tennis players should earn more money than their female counterparts because more people watch them play.
His comments came after Indian Wells chief Raymond Moore said that the women's Tour "rides on the coat-tails of the men" – he was later forced to resign.
Both comments were understandably met by anger from female tennis players, most notably Serena Williams.
The battle over equal pay in sports has been waged for years and the debate looks set to continue.