Turkey is sending Syrian refugees back to war zone, claims Amnesty
Comments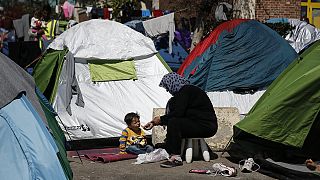 Is Turkey a safe country for Syrian refugees?
Amnesty International doesn't think so.
And with Europe's deal on returning migrants there taking effect from Monday, the rights group claims that Ankara has been forcing thousands of Syrians to go back to their war-torn homeland.
"The Turkish government needs to stop this blatantly illegal and inhumane practice," said Amnesty International's Director for Europe and Central Asia John Dalhuisen.
"There is no room for any practice to be returning any individuals to a conflict zone. In turn, the EU must be encouraging Turkey to stop this and certainly cannot even contemplate returning Syrians when any real risk of sending them back to Syria from Turkey exists."
The UN refugee agency (UNHCR) called on Friday for legal safeguards to be in place before refugees are returned to Turkey under the agreement with the EU, while warning that conditions in Greece are deteriorating.
As the Greek parliament passed legislation on Friday needed for the deal to be implemented, Turkey's foreign ministry denied authorities were sending Syrians back against their will. A spokesman for the European Commission said it took the allegations seriously and would raise them with Ankara.
For those on the frontline, Monday is looming ominously. More than 50,000 migrants and refugees are stranded behind closed borders in Greece.Their future looks more uncertain than ever.
Yesterday, our team counted roughly 15,000 #people at #Idomeni including this little one helping her mum with lunch. pic.twitter.com/OuKFcx0mZD

— MSF Sea (@MSF_Sea) 1 avril 2016