South Africa: President Zuma denies dishonesty over spending scandal
Comments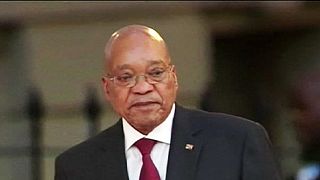 South Africa's President Jacob Zuma has denied acting dishonestly in a scandal over public funds spent on renovations at his private home. But he has promised to obey an order to repay some of the money.
A court ruled this week that he had failed to uphold the constitution by ignoring instructions to pay back some of the 14 million euros spent at his Nkandla residence.
"I welcome the judgement of the Constitutional Court unreservedly. The judgement has underscored the values that underpin our hard-won freedom and democracy," President Zuma said in a televised address to the nation on Friday evening.
Media statement by President Jacob Zuma in response to Constitutional Court judgement on Nkandla security upgrades. https://t.co/jVUYxo7QVF

— PresidencyZA (@PresidencyZA) 1 April 2016
A report in 2014 found that expenses that went towards a swimming pool, cattle enclosure, chicken run, amphitheatre and visitor centre were not related to security and that Zuma should pay for them.
Early estimates suggest he may have to pay about 600,000 euros.
Opposition parties who have been calling on the 73-year-old to resign have dismissed his remarks.
"The president is misleading South Africa. He said repeatedly he always wanted to pay. He never wanted to pay," said Democratic Alliance leader Mmusi Maimane after the address.
To say he acted "in good faith" & it was all a misunderstanding based on a "different approach" insults our intelligenceMmusiMaimane</a> <a href="https://twitter.com/hashtag/Zuma?src=hash">#Zuma</a></p>&mdash; Democratic Alliance (Our_DA) 1 April 2016
Analysts were also unimpressed, one describing the intervention as a "gutless whitewash".
The opposition has launched impeachment proceedings against Zuma but they are unlikely to be successful because of the ANC's strong majority in parliament.
South Africa gave the #Zuma Goverment one trillion rands in taxes and he gave South Africa the middle finger. Nice.

— Xolani Mvulana (@XolaniMvulana) 1 April 2016
Anyone who for minute thought #Zuma can ever act in the best interest of SA other than for his family and friends has not understood the man

— Zwelinzima Vavi (@Zwelinzima1) 1 April 2016
#Mantashe: #ANCNWC shall hold an extended meeting on Monday, 04/04/2016, to discuss the judgment, its implications & concerns of our people

—

ANC

(@MyANC_) 1 April 2016