Policeman and gunman dead after shooting at Virginia bus station
Comments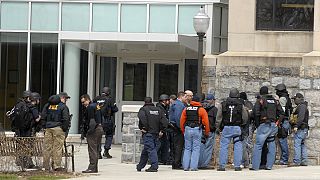 A policeman has died after being shot by a gunman at a bus station in Richmond, Virginia.
The suspect also died after a shoot-out, which happened during a police training exercise at the bus station.
One witness inside said: "I had my hand on the door handle when I heard two gunshots go off.
"I didn't think they were gunshots, but then there were like five, maybe 10 more after that.
"And I could see the muzzle flash through the tinted door. And so I ran out of there."
Two passersby were also injured and taken to hospital, but their injuries are not thought to be life threatening.