Turkey: PKK claims responsibility for Diyarbakir car bomb
Comments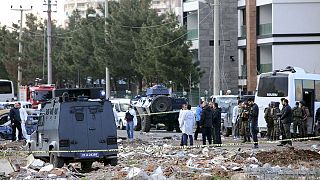 The outlawed Kurdistan Workers Party or PKK has said it carried out Thursday's car bombing in the Turkish city of Diyarbakir that killed seven police officers and wounded 27 people.
The claim was made in a statement on a PKK website.
Security sources said on Friday nine people had been detained in connection with the attack. A parked car containing explosives was detonated as a minibus carrying police officers turned a corner.
The attack came a day before the prime minister's scheduled visit to the city in the largely Kurdish southeast.
After taking part in Friday prayers at the Great Mosque, Ahmet Davutoğlu then gave a defiant speech before the assembled crowd.
"We have never been scared, we are not and we will never be. We have always been here , we are here and we will be here. God will claim my life one day. Here I am praying for him to claim it here in Diyarbakir with my Kurdish brothers," he cried.
Turkish PM calls for 'courage against terror' https://t.co/7eLAPiPtClpic.twitter.com/BQTN2CLddY

— Hürriyet Daily News (@HDNER) 1 April 2016
The Turkish army said fighter jets carried out airstrikes on PKK bases in northern Iraq on Friday.
It claimed targets such as ammunition depots and shelters were destroyed in the areas around Zap and Metina.
Southeastern Turkey including Diyarbakir has seen a wave of violence since last July, when a ceasefire collapsed between the government and the militant group, which is considered a terrorist organisation by the EU and the US.