US: Trump rows back after sparking abortion row
Comments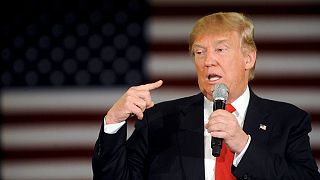 US Republican presidential front-runner Donald Trump is no stranger to controversy – and now he has sparked off a spat over abortion.
The billionaire businessman has said that women who end pregnancies should be punished if America bans the procedure.
It has triggered a torrent of criticism from both sides of the debate, including on social media. His White House rivals are among those who have been reacting.
We can't let someone with this much contempt for women's rights anywhere near the White House.https://t.co/OjU9gRwsxo

— Hillary Clinton (@HillaryClinton) 30 mars 2016
Even by his impossibly low standards, realDonaldTrump</a>&#39;s suggestion that women be punished for seeking abortion is abhorrent.</p>&mdash; Hillary Clinton (HillaryClinton) 30 mars 2016
Since the comments were broadcast, Trump has rowed back his remarks. First by saying that the abortion issue should be handled by states and then later by saying that doctors who perform them should be held responsible.
"The doctor or any other person performing this illegal act upon a woman would be held legally responsible, not the woman," Trump said in his last statement.
"The woman is a victim in this case as is the life in her womb."
Abortion was legalised in the US in 1973, when the Supreme Court declared that a woman's constitutional right to privacy protects her decision to end a pregnancy.
In the decades since then, there have not been enough votes on the Supreme Court to reverse the ruling, but numerous states have passed laws aimed at restricting abortion.
Trump – a man liked and loathed – has won support from Republican voters for selling himself as a Washington outsider. But he has also been a magnet for criticism over his controversial comments about women and minority groups.