Donald Trump's campaign manager charged with battery
Comments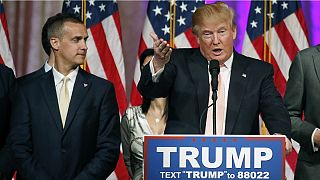 The campaign manager of US Republican presidential hopeful Donald Trump has been charged with battery.
Corey Lewandowski (pictured above, left) is accused of grabbing and bruising the arm of reporter Michelle Fields at a Trump campaign rally in Florida on March 8.
He has been charged with simple battery, which in Florida is defined as intentionally touching or striking a person against their will. First-time offenders risk a maximum sentence of one year in prison or a $1,000-Dollar fine.
Trump's campaign team issued a statement saying "Mr Lewandowski is absolutely innocent of this charge. He will enter a plea of not guilty and looks forward to his day in court. He is completely confident that he will be exonerated."
Trump himself defended his campaign manager as a 'very decent man'.
Wow, Corey Lewandowski, my campaign manager and a very decent man, was just charged with assaulting a reporter. Look at tapes-nothing there!

— Donald J. Trump (@realDonaldTrump) 29 March 2016
Fields filed a report and posted a picture on Twitter purporting to show her bruised arm.
I guess these just magically appeared on me CLewandowski_</a> <a href="https://twitter.com/realDonaldTrump">realDonaldTrump. So weird. pic.twitter.com/oD8c4D7tw3

— Michelle Fields (@MichelleFields) March 10, 2016
Lewandowski also used Twitter to post his response, denying her allegation.
MichelleFields</a> you are totally delusional. I never touched you. As a matter of fact, I have never even met you.</p>&mdash; Corey Lewandowski (CLewandowski_) March 11, 2016
Jupiter police have published a video of the alleged incident.
From the released police video https://t.co/sOCoW1kKgHpic.twitter.com/g9OCRpmiNN

— zerohedge (@zerohedge) March 29, 2016
Trump is currently leading the race to become the Republican nominee for November's US presidential election but his campaign style has been criticised by high-ranking members of the Republican Party establishment.