Skiing: Two-time Olympic champion Tina Maze hints at retirement
Comments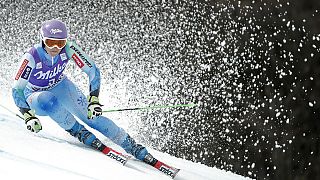 Four-time World Champion Tina Maze threw a major doubt over her continued presence on the Women's world cup circuit this week.
When asked whether she is going to continue or end her career the Slovenian two-time Olympic champion in the downhill and Giant Slalom admitted she was leaning towards hanging up her competitive skis.
At the launch of her children's book 'Tina and bear strength' Maze said: ''Today I was skiing, if It's possible I go skiing every day, but continuing to compete…. the answer is more NO than Yes.
''I know for some time what I want to do in future. It's not official yet, but I can't lie. If I don't have the energy to compete, I can't say that I do. You have to make a decision and I think It's fair to let people know what It is.''
The 32-year-old has competed professionally for 16 years .
In 2013, she won the overall world cup title breaking the record for points in a single season.
She took last season off to concentrate on her studies.
Maze will make an official announcement on her career this summer