France: Clashes as students march against labour reforms
Comments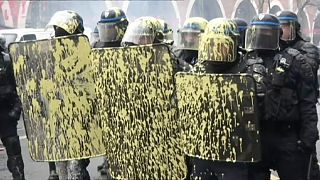 Thousands of students took to the streets of France on Thursday to protest planned labour reforms they say will deny them the job stability enjoyed by previous generations.
But as marchers denounced pro-business moves to loosen protective French employment legislation, things took a violent turn in Paris and other cities.
Arrests and injuries were reported in clashes with security forces on a day billed by the media as a make-or-break test of strength for Socialist President Francois Hollande, plagued by low popularity and a jobless rate stuck above 10 percent.
Demonstration against the French government's proposed labour reforms in Nantes, France. By @LoicVenance#AFPpic.twitter.com/6rzslFonMN

— AFP Photo Department (@AFPphoto) 26 mars 2016
For commuters it was a black Thursday with huge traffic jams at rush-hour.
Taking the car was the only way into work for many as industrial action on public transport – in protest at the labour reforms – caused major disruption.
For those lucky enough to find a train running in Paris, it was anything but a comfortable ride.
France's SNCF state railway company said stoppages among its staff had cut some services by 40 to 50 percent. About one in five flights were cancelled at Orly airport south of Paris, the DGAC air transport authority said.
And things were not much better for tourists in the French capital. Under rainy skies, they were confronted with the closure of the Eiffel Tower, as ticket kiosk staff and others joined the strike.
The reforms, due to be debated in parliament next week, would give employers more flexibility to agree in-house deals with employees on working time.
FRANCE - Politics - French protesters strike again over labour reforms https://t.co/j0mhi8cmKg

— RFI English (@RFI_English) 31 mars 2016
The protests come a day after Hollande, who has said he will not run for re-election if he fails to make a dent in the jobless rate, abandoned another piece of legislation – plans to strip convicted terrorists of French citizenship.
That climbdown was forced on him by other lawmakers, many of them in his own camp.