Takata airbag recall costs could total 21 billion euros
Comments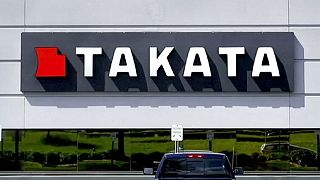 Twenty one billion euros is the bill Japan's Takata could face for a recall of all of its potentially faulty airbag inflators.
A report by Bloomberg quotes that figure from a source in the company and says more than 287 million inflators containing ammonium nitrate would be involved in the worst case scenario.
Previous industry estimates were that Takata could face a recall bill the equivalent of over three billion euros if it is found to be responsible for all the defective airbag inflators recalled to date.
The recalls are because airbags can explode with too much force and spray metal shards inside vehicles. At least 10 deaths and scores of injuries have been linked to the problem.
The report sent Takata's shares tumbling by a fifth to an all-time low. As of December the company's total assets were only the equivalent of about 1.1 billion euros.