Paris: Seven Somali men go on trial over fatal yacht hijacking
Comments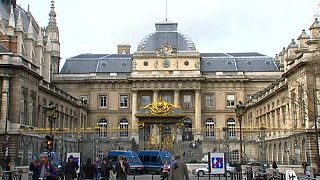 Seven Somali men have gone before a court in Paris, accused of hijacking a French yacht in the Arabian Sea four years ago.
Owner Christian Colombo was killed and his wife abducted in the assault – she was later rescued by Spanish naval forces.
The trial is set to last two weeks and, if found guilty, the men face life sentences.
The couple were sailing from Yemen to Oman on a trip around the world when gunmen seized their yacht.
Evelyne Colombo told her rescuers that the assailants had dumped her husband's body in the sea after he was killed.
The men have not been charged with homicide, but with hijacking, as well as theft, abduction and illegal confinement, according to a lawyer for one of the suspected attackers.
Trial of suspected Somali pirates for 2011 deadly hijacking of French yacht to begin Tuesday in Paris. https://t.co/aJ37vqN8S1#EastAfrica

— Oceans Beyond Piracy (@Piracy_OBP) March 28, 2016
Seven Somali pirates face trial in Paris for fatal hijacking https://t.co/44rU92Gi8d

— International Crimes (@IntCrimDatabase) March 29, 2016