Pro-Tibet activists deface Chinese flags as President Xi arrives in Prague
Comments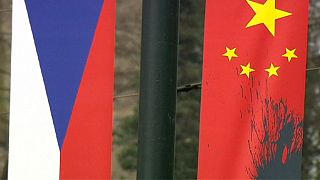 Czech police have arrested 12 people in Prague for defacing Chinese flags and replacing them with Tibetan ones, as Chinese President Xi Jinping arrived for a state visit on Monday.
Several of the protesters resisted arrest, with some chaining themselves to lamp posts. The fire department was brought in to get them down.
The activists were protesting against the policy of the Chinese government on Tibet, which it has governed as an autonomous region of China since the 1950s.
Xi is on a two-day state visit to Prague to promote commercial ties. It is the first visit to the Czech Republic by a Chinese President.
The Czech President Milos Zeman has been keen to build stronger links with China, which is already the Czech Republic's third largest trading partner, since his election in 2013.